The world' s largest hybrid solar-hydro power plant, with an installed capacity of 1 GW of solar panels and 3 GW of hydro- power generators, has begun producing electricity in the east- ern Tibetan Plateau. Located in Kela town, Yajiang county, Ganzi prefecture, Sichuan, the plant's first phase is empowered by 287.4 MW of Jinkosolar' s N-type TOPCon bifacial panels and was connected to the power grid at the end of June 2023. After the station' s operation stabilized, a comparison study was conducted between N-type and P-type modules in the high-altitude area from July 15 to August 15 2023, in order to investigate their outdoor performance.
The study revealed a 5.52% yield gain of JinkoSolar' s N-type TOPCon bifacial panels (570Wp) over P-type PERC bifacial panels (545Wp) in this massive project.
Situated at an altitude of 4,000 - 4,600 meters (15,000 feet) above sea level, on a mountain in Yajiang county (N29°56' 50.75", E100°37' 1.94"), Ganzi prefecture, Sichuan, the Kela solar-hydro power plant is the highest-altitude project of its kind in the world. It benefits from an annual average irradiation of 6434.8 MJ/m2.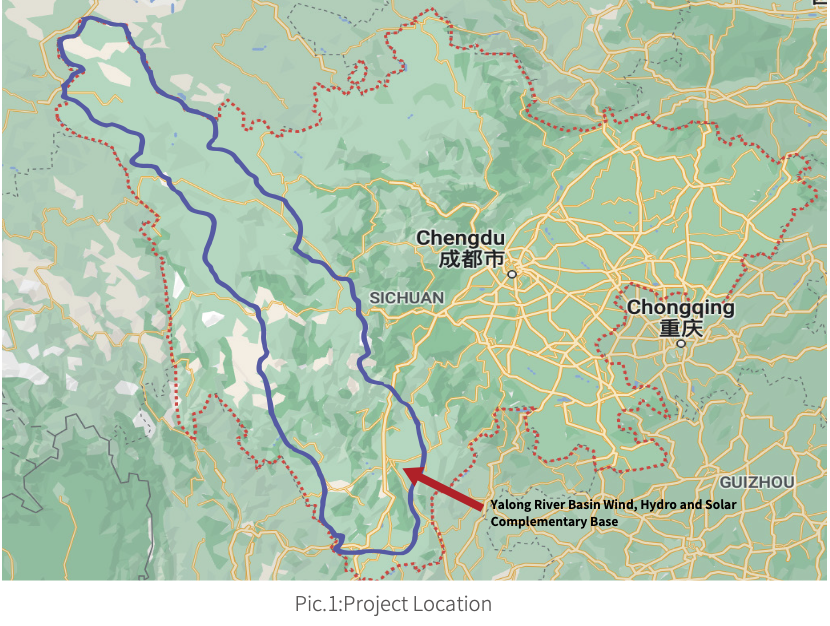 Spanning a total area of 74 sq km (28.57 square miles), the plant consists of 149 solar arrays, with single-axis support and ±45 ° tracking tilt angles, as well as 163 fixed-mounted arrays with angles of 26 ° . The pitch distance between arrays is 10.5 meters. The plant utilizes 196 kW string-type inverters, with each string connecting 26 bifacial panels. The DC-AC ratio is set at 1.21 for fixed mounting arrays and 1.15 for single-axis solar arrays. Panels are positioned 1.8 meters above the ground, the lowest profile.This comparative study is based on two arrays with the same system design in the same region: one is an N-type TOPCon bifacial module array, and the other is a P-type PERC bifacial module array.

Results:
The initial data collected from July 15 to August 15 shows a 5.52% yield gain of Jinkosolar' s N-type TOPCon bifacial panels over P-type PERC bifacial panels. This can be attributed to the unique advantages of Jinkosolar' s N-type TOPCon panels, including high efficiency, high power output, high generation capabilities, high bifaciality (80% and above), lower temperature coefficient (-0.29%/°C), and lower degradation. The project serves as a compelling example of the investment and construction advantages of adopting N-type technology in similar projects.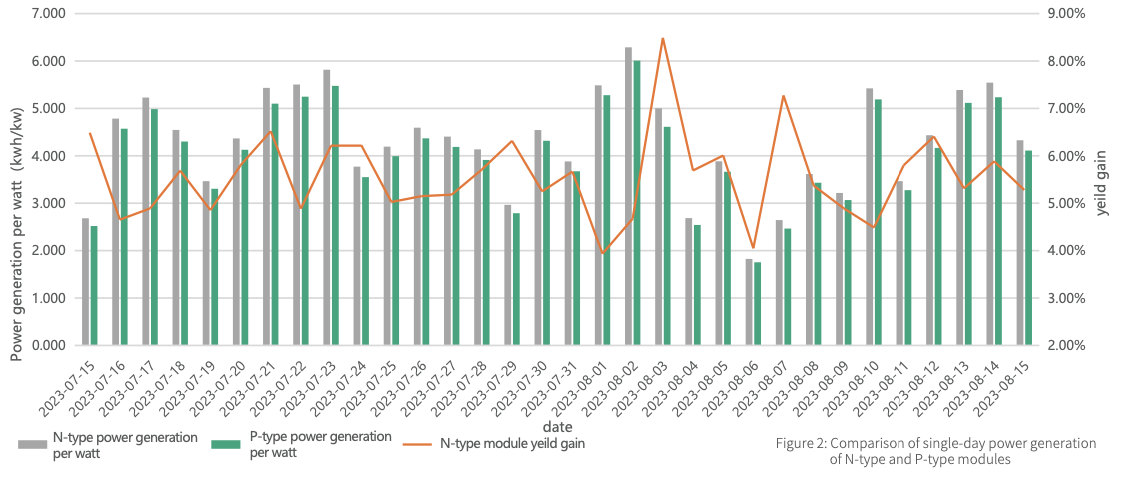 Legal Statement
About JinkoSolar Holding Co., Ltd.
Jinko Solar Co., Ltd. (the "Company", or "Jinko Solar") (SSE: 688223) is one of the most famous and innovative solar technology companies in the world. Its business covers the core links of the photovoltaic industry chain, focusing on the R&D of integrated photovoltaic products and integrated clean energy solutions. At present, Jinko Solar's products serve more than 3,000 customers in more than 160 countries and regions around the world, and the company has ranked No.1 in global module shipments from 2016 to 2019. By the end of Q1,2023, the cumulative module shipments of Jinko Solar have exceeded 150GW. Jinko Solar is an industry opinion leader under various international frameworks such as B20, and it is also one of the first solar energy companies to join the RE100 green initiative.
Jinko Solar is the first company to establish a "vertically integrated" production capacity from silicon material processing to wafer, cell and module production in the industry. It has a total of 14 global production bases in China, the United States, Malaysia and Vietnam. JinkoSolar expects its annual production capacity for mono wafer, solar cell and solar module to reach 75.0 GW, 75.0 GW and 90.0 GW, respectively, by the end of 2023. Jinko Solar has more than 1,000 R&D and technical employees and has won many honors such as "National Enterprise Technology Center", "National Technology Innovation Demonstration Enterprise", "Champion of Manufacturing ", and has formulated many international and domestic industry standards such as IEC. Jinko Solar continuously expands the diversified application scenarios of photovoltaic technology, including building-integrated photovoltaic, photovoltaic hydrogen production, energy storage and other fields, and strives to create a new energy ecosystem.

Jinko Solar was listed on the STAR Board of the Shanghai Stock Exchange in 2022, and JinkoSolar Holding Co., Ltd., its indirect controlling shareholder, was listed on the New York Stock Exchange in 2010.
Safe Harbor Statement
This press release contains forward-looking statements. These statements constitute "forward-looking" statements within the meaning of Section 27A of the Securities Act of 1933, as amended, and Section 21E of the Securities Exchange Act of 1934, as amended, and as defined in the U.S. Private Securities Litigation Reform Act of 1995. These forward-looking statements can be identified by terminology such as "will," "expects," "anticipates," "future," "intends," "plans," "believes," "estimates" and similar statements. Among other things, the quotations from management in this press release and the Company's operations and business outlook, contain forward-looking statements. Such statements involve certain risks and uncertainties that could cause actual results to differ materially from those in the forward-looking statements. Further information regarding these and other risks is included in JinkoSolar's filings with the U.S. Securities and Exchange Commission, including its annual report on Form 20-F. Except as required by law, the Company does not undertake any obligation to update any forward-looking statements, whether as a result of new information, future events or otherwise.
For investor and media inquiries, please contact:
JinkoSolar Holding Co., Ltd.
Tel: +86 21-5180-8777 ext.7806